2021-10-11: our activities
We usually play 24 deals, without having the screens mounted onto the tables. "Match points" results, with differentiation, are used for the majority of the games. It means that your point result is changed to indicate % of the best result played in each deal
Our A-advertisement rack is sometimes outside, when we have some activities going on. Activities might be left out due to holidays or some other "overlapping" arrangement.
| | | |
| --- | --- | --- |
| Monday | Bridge games, 5€ /player. Location Cirkelvägen 21 2nd floor | From 2022-02-21 at 18:00 |
| Tuesday | | |
| Wednesday | | |
| Thursday | No information available ... Please contact a member of the board. Their contact information is found on the Swedish languaged page. Link to correct page, on the bottom of this page. | |
| Friday | | |
---
2021-01-03: the club
"Vasa Bridgeklubb r.f." has been in the association register since 1943 and is thereby one of the older clubs in Finland. We had 85 members at the end of year 2018. We have a good bridge library.
We have arranged national tournaments, such as the 5-day Eastern Bridge tournament, since 2015. Look for "Vaasan Pääsiäisbridge" annually in the result list on Suomen Bridgeliitto home page.
Welcome to drop by, when you see that we have some kind of activities here or somewhere else. Please contact a person in the board for more information - link at the bottom of this page.
Our new Internet pages were published 2018-01-23. We also have a Facebook page. We are located on the 2nd floor at Silmukkatie 21, above "Laakeri-Center". Our activities consists of Bridge as a social card game. We play "Summer bridge" at other locations during the summer months.
| | |
| --- | --- |
| | Playing tables in the playing room and the kitchen in the background. |
New bridge curtains in two windows on the 2nd floor - just awaiting some kind of spotlight arrangement, for better visibility when it is dark .

Our beautiful advertisement rack outside.
2019-04-06 Vasa Bridgeklubb -
an interview with Clas Nyberg in Vaasan Ikkuna

3.4

A summary in English:

Started playing at he age of 18. Now 26 years later he has won 30 pcs Finnish championship titles. Last medal is from March, when he plated with Kauko Koistinen and the one before that is from the team championships, 3 months earlier. The team consisting of 6 players, has dominated the Finnish team bridge, The team has won all the team championships since 2010.

Clas has always been interested in playing cards, but left all other cards games behind when he was introduced to Bridge.

Ability to reason - Patience is important, because it takes some time to learn. Bridge is a partner game, where it is important to understand your partner and also the opposite pair of players. How did Nyberg reach the top? With diligent practicing.

Always something new - What makes Bridge so interesting is that you always learn something new. There is almost no luck involved in Bridge. You can win even with bad cards, because the other players are also being dealt te same cards. Another interesting point is the age has no difference as, 15 - 85 years of age is just fine. The social factor is also important. Nyberg has met new people when he has travelled. Playing events are held almost ever weekend somewhere in Finland and also abroad. Nyberg has represented Finland in 14 international events. Nowadays I play maybe 3 weekends in a 2 months period. Next big event will be the Nordic championships in Norway in June.

New hobby players - Vaasa can offer good possibilities to play. We play every week and we also arrange course for beginners annually. Our club has a bit less than 100 players and is thereby maybe the 3rd or 4th largest club in Finland. Bridge would like to see more younger players pick up this hobby, but it is difficult because there are some many different hobbies to choose from nowadays.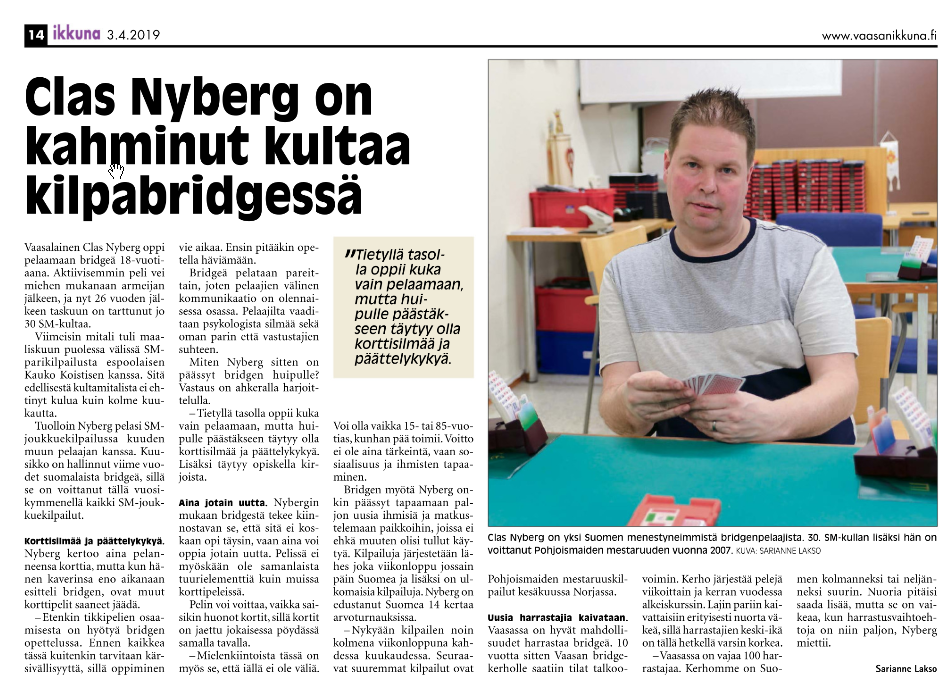 ---
equipment
- " Duplimate Mk4.4" machine for shuffling the cards, and the accompanying software. The software makes it possible to play different types of games and to have game analysis
- " BridgeMate Pro" in Vaasa and "BridgeMate 2" in Vöyri for entering the results during the game
- " Ruter 4.13" software takes care of the result service
- A large quantity of standard flip-opening boards, playing cards with bar codes and bidding boxes and also removable cheat screens on the tables